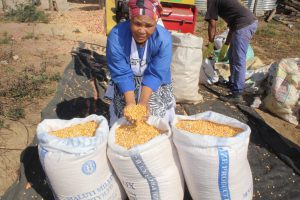 Amajola Agriculture Co-op story
By: Nontuthuzelo Mendu
In the Winnie Madikizela Local Municipality, Alfred Nzo District is 53-year-old business woman turned house wife who never thought agriculture would drastically change her life and those of her family members.
Nowinile Majola, a stout, hard working mother of three came to a realization that as an unemployed mother, she may not be able to offer a bright future for her children. She did not feel sorry for herself but started a small garden project to provide for her family and sold surplus to her community.
She further approached other women in her village to start farming and sell their produce in town. In 2015 they started Majola Agricultural Primary Co-op their dream started to make sense and they realised that all they need is more land.
They approached the chief and leased one hectare which has been increased to ten hectares to date. The co-op has five members and seven casual employees and each member has 20% shares in the business.
The Co-operative is based in Mhlanga location under Winnie Madikizela Local Municipality. Their main aim, Majola said is to eradicate poverty, crime prevention by encouraging youth to take part in agriculture in order to be able to provide for themselves and be entrepreneurs in the future.
Today Majola is able to drive her own car/ bakkie which she uses to distribute the produce to the nearby markets. The co-op is producing yellow maize on 10ha of land. The maize is sold to Harding Milling, Bizana Agric Supplies and, local consumers.
"When I saw that the only gold we have in the Mpondoland is land, we approached the technical advisors in our area and they gave us advice on how to plant quality maize and get better yields".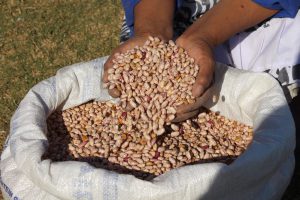 "To work the land of the forefathers has always been my dream and now I'm ready to pass the baton to my kids to go forward with farming"
As this co-operative, we will always be grateful to DRDAR for the training on financial management and Alfred Nzo municipality who also provided us with fencing which came as great help as the livestock tend to be a problem when the fields are not fenced" concluded Majola.
The Majola Agricultural Primary Co-op managed to buy themselves a maize sheller which they use to shell their maize before they pack it into bags and be ready for the market.