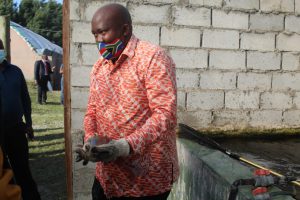 MEC Pieters calls for diverse farming in Eastern Cape
AMID the promising international trade channels that government is aggressively unlocking, MEC for Rural Development and Agrarian Reform, Nonkqubela Pieters encourages local farmers to broaden their scope of production and venture into the uncharted commodities.
With Eastern Cape known as the livestock capital in South Africa; wool, mohair and grain are among the commodities that have become the flagship of the province's farming sector, including citrus.
To ensure continuous trade in almost every commodity, Pieters is calling on Eastern Cape farmers to be as diverse as possible in their farmlands so to create assortment even in investors and the market.
Putting action behind her words, this week Pieters crisscrossed the province visiting enterprises that trade in different commodities where she landed at the Port Alfred-based Lilac  Holdings -Tilapia Fish farm.
Tilapia is the common umbrella name for nearly a hundred species of cichlid fish and according to co-owner of Lilac  Holdings Tilapia Fish farm, Morena Khashane who is an aquaculturist, there has been a growing demand for the commodity both locally and nationally as a result of globalization and migration.
There are   eight tunnels in the farm with each having two tanks inside that can accommodate a maximum of 15000 fish. Khashane and his two business partners started the business in 2019 with R5 million capital which they raised themselves. During their stint in the industry they have managed strike a deal with one of the country's leading fish distributor.
"Pick n Pay is also one of our customers, including various fish and chips outlets in the province. But our greatest milestone so far has been supplying, Lake Harvest –a fish distributing company that operates in Gauteng but distributes across the country said Khashane.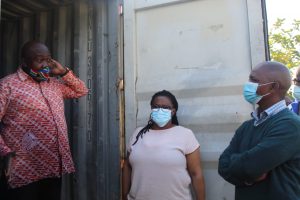 The black-owned fish farm doesn't breed its own fish at the present moment but buys finger links in Makhanda (Grahamstown) at a weight of about 2kg and grow them for a period of six months in their tanks under the recirculated water system.
However, as much as the demand for their produce is high, there are challenges that weigh the business down which Khashane shared with Pieters. Most of these are infrastructural.
"So far we have sold more than 30 000 fish and we can't meet our customers' demand because our infrastructure doesn't allow us.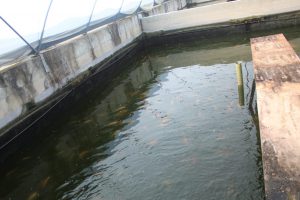 We are in a dire need of operating inputs. The business can take care of the rest of its needs because even the water we are using here is from our boreholes," said Khashane.
The farm also assists the Ndlambe Local Municipality with water from its borehole.
With the international trade company, Al-Mawash showing interest in various locally produced food, great opportunities await Eastern Cape farmers in the industry.