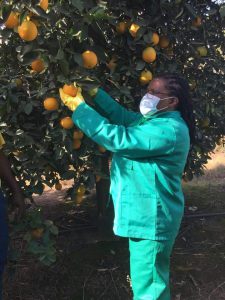 Upper Kat citrus growers anticipate growth in citrus industry
THE Upper Kat citrus growers are foreseeing a tremendous growth in the citrus commodity as this industry is the economic driver in the area.
Upper Kat citrus growers yielded and marketed a total of 576114 cartons of fruit in the past season.
The group is made of 17 black growers and one white farmer within the Amathole District who grow their fruit on a 400ha piece of land and export a large chunk of it to international markets.
Last year they raked in a combined bottom line of R94 869 136 on both exports and local sales.
Today [June 12, 2021] MEC for Rural Development and Agrarian Reform, Nonkqubela Pieters led the citrus harvesting.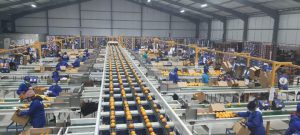 These farmers create jobs for more than 1000 locals with majority of the jobs being seasonal whilst the department placed young people(unemployed graduates)in some of these farms for experiential learning and mentorship in 2019/20 -20/21 paying market related stipend Pieters also engaged farmers on how her department can help them soar to greater heights.
"This area is known as the citrus belt of the province and it has great potential. Government alone can not create jobs but creates a conducive environment for businesses like yours to expand, create jobs and have a meaningful contribution in the country's economy " said Pieters.
Key challenges raised by farmers were infrastructure , title deeds and debts that were supposed to be written off but the progress is very slow.
Athol Trollip of South African Fruit Promoters who has been helping the farmers to secure funding after being rejected by banks as they don't have title deeds said the Upper Kat citrus growers were on the right track ,their produce is of good quality and them getting title deeds will unlock all the bottlenecks in securing commercial funding.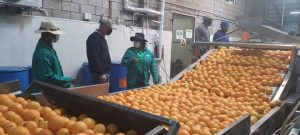 "We are very grateful for the support that government continues to provide and we have also helped many of the farmers to secure loans so that they could purchase fresh trees as some of the farms had old trees that were no longer productive. The trees have now beard their first fruits and if this is replicated, the farmers will be able to produce more and finally break even. As we know the
demand for Vitamic C continues to rise under the covid 19 strain and the performance of the
industry is very good .In the next three years we expect our turnover to go from R96 million to R120 million," said Trollip.
In response MEC Pieters committed that her department will liaise with National department of Agriculture, Land Reform and Rural Development through the Acting Head of Department, Mr Bongikaya Dayimani to speed up the process of title deeds and there will be further engagement with these farmers and other stakeholders that are active in the citrus commodity as close monitoring is essential to ensure that government realize the gains of the financial investments made.
Among the producers is 33 year old Siyabonga Ndzoyi of Gatyena Farm who operates on a 32. 578 ha farm with 16.9 ha under production exported 12 678 cartoons in 2020 and sold 1378 cartoons for local markets with more than R1 million in revenue.
He is also looking for more land so he can grow his production and create more jobs.
The farmers' produce is prepared and packaged at the local Eden Agri Services pack house in Fort  Beaufort before it is shipped to international markets.