Woman farmer harvests benefits of resilience
BUSINESS ideas and setting of goals are some of the traits found in the DNA of most entrepreneurs but very few possess the resilience needed in the actual running of the business, and this is what has set Noluthando Mbilase apart from her counterparts.
Located in Upper Kat just outside Fort Beaufort along the R61 route, Mbilase runs a thriving 64-hectare citrus farm that produces top of the range citrus with 80% of her yield destined for international markets while only 20% is consumed locally.
Some of the 56-year-old's success in the sector include a combined prize money of R420 000 in the Female Entrepreneur Awards organized by the National Department of Agriculture, Land Reform and Rural Development and the Department of Rural Development and Agrarian Reform
These accomplishments did not come on a silver platter as she received baptism of fire in the industry.
She took over the reins at Greenwood farm after 1996 when the company –Ulimocor- that ran most of the farms in the area was in the process of being liquidated.
With her Citrus Production qualification that she obtained from the Fort Cox Agricultural College in Middledrift and practical experience at the Tyhume Estate Citrus Estate, she was then appointed in the Kat River Valley as a filed officer in an attempt to turn around the dwindling production.
As many would have been happy and honoured to receive such appointment, that was not the case with Mbilase as her employment became a nightmare.
She said previous managers and locals from neighbouring residences did not welcome her with warm hands to an extent that acts of vandalism at the farm's infrastructure began and at some point she found tyres of her vehicle hacked to the ground. In the midst of her challenges, she was dealt with another hard blow when the Ciskei Agricultural Bank was restructured, leaving her with limited production funding.
But her courage kept her going despite the odds being stacked against her. During this period, Mbilase even thought of packing her bags and vacate the fertile land with so much potential.
"I would get in bed, and turn while I ponder about my future at the farm. More than ten times I decided to quit but the following day wake up and pull myself together. That was the stressful period of my life but because I had goals and ambition, I stayed and gave it my all," she said.
While her business could barely make profit, Mbilase was forced to venture into other avenues like opening a nursery and vegetable store so to keep the fires burning.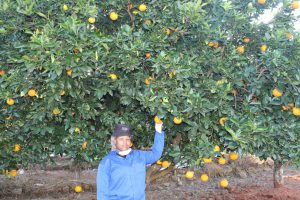 "Because I grew up in rural areas with a background of livestock farming, I began selling cattle which belonged to my family so I could generate profit and at least pay farmworkers. It was no longer about me," she added.
After struggling for almost sixteen years, situation at the farm began to change following a R4,5 million recapitalization funding pumped to the farm from the state. From this, Mbilase could use portion of the money to repay her debt, fix the broken infrastructure and even bought herself a tractor to develop new orchards. And another annual R230 000 production grant from the state gave her a foothold to augment her production.
As if all the financial hardships she went through weren't enough, between 1999 and 2003 she suffered yet another setback when mother nature destroyed half of her trees through a ravaging hailstorm. While still nursing her wounds, five years later another hailstorm razed through her farm and wiped out everything.
"Imagine I had loans and at the same time experiencing cash flow problems when all this happened. I'd go 24 hours without sleep even though I went to bed like everybody else. But determination pushed me to seek financial aid elsewhere so I could service my debt while trying to resuscitate my orchards. Getting financial assistance meant drowning myself in more debts because there was just no other way out of it," she relayed her ordeal.
In spite of it all, in 2018 she marched forward only to win awards as one of the top female farmers in the Eastern Cape Province and the country.
Today Mbilase is a force to be reckoned with her yields improving both in quality and quantity season by season.
"My network of farmers and the Department of Rural Development and Agrarian Reform have been my pillar of strength. I wouldn't come this far without them in my corner. Government's intervention after from 2013 to this point has made a huge difference. Even now they recently bought me a water pump and its accessories to assist in the irrigation of my orchards across the farm," said Mbilase.
In the previous season Mbilase made 18 cartons per bin but so far this year she has harvested 24 cartons per bin yet she isn't done harvesting all her orchards.
The King William's Town-born female farmer harvests and takes her yield to the nearby Ebden pack house where it is graded, sorted and packed accordingly before distribution. And Mbilase believes that this year she will export between 85% and 90% of her fruit.
Behind the drastic change in the farm is a team of 12 employees hired on a permanent basis to look after the trees and the fruit and assist in the day-to-day operations of the business.
Some of the threats to Mbilase's business include pest infestation, theft and livestock from nearby subsistence farmers that break in the farm and feed on her trees.