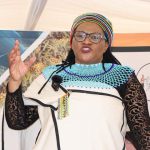 MHLONTLO FARMERS SAY NEW SHEARING SHEDS WILL IMPROVE THEIR BUSINESS
SHEEP farmers, who are also wool growers in 10 Tsolo and Qumbu villages said the the shearing sheds handed over by the Eastern Cape MEC for Rural Development and Agrarian Reform, Nonkqubela Pieters, said the new facilities will help improve their businesses as they will now sell pure quality wool using the new structures.
As part of rolling out programmes to grow the province's agriculture economy, Pieters handed over 10 shearing sheds with shearing equipment with each wool grower's association getting a structure that comes with a small flock dipping tank, fence and medicine for 3000 sheep.
During the handing over of the shearing sheds, Pieters also handed over 121 rams to local farmers, which will be used to improve genetic condition of local flock owned by local wool growers. She also announced that her department has handed over 36 bulls to farmers in Mhlontlo to improve quality of their herd and increase numbers.
Local farmer and wool grower, Nozipho Tokuzwayo said they were very happy and excited as Mhlontlo farmers with the handing over and opening of these shearing sheds because previously farmers used to shear their sheep in their homes.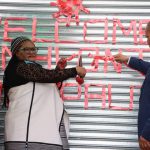 "Our wool was contaminated by dirt. We are happy and excited because since the construction of this shearing shed we now have a good structure for shearing and our wool is clean. The rams we got from the government contributed a lot in improving the quality of our wool clip. As a result, we now get better money for our wool because of these rams that give us better quality wool," said Tokuzwayo.
Her colleague, Mandlovandile Rala said previously when they sheared in their houses they had a problem of poor quality wool but now that they use these sheds they will fetch better money from the markets.
"The shearing shed is where we shear our sheep, get clean wool and even get better money from selling our wool to the markets because of these resources. The other thing is that this develops us because we get new ways to sort our wool according to different parts of the sheep. The rams improve the genetic condition of our flock and give us sheep with improved genetics, great condition and they fetch good money from the markets which improve our businesses," said Rala.
He added that they are happy with the medicine they got from Pieters because it will improve condition of their sheep because conditioned sheep brings them money through wool and selling it for meat.
Pieters said the Department made this investment in the farmers to assist them to improve their herd, improve quality of their wool clip to be the same quality needed by the markets.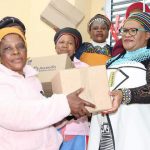 "We invested R10.9 million in the construction of these ten shearing sheds in Mhlontlo alone. When we handover shearing sheds we don't just give farmers an empty building, we include shearing equipment that farmers need like sorting tables to sort their wool, press it properly so that they stop asking their kids to press it using their feet. Farmers will now weigh their wool so that each person knows how much their wool weighs because the money they get from selling their wool is according to their wool weight and quality," said Pieters.
She added that Mhlontlo farmers are not only farming with livestock because they also produce crops like grain which her Department also invests in with some farmers getting mechanisation support, others seeds and fertiliser. Ends…