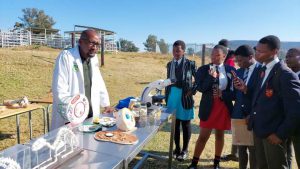 The Department of Rural Development and Agrarian Reform's Human and Institutional Capacitation Chief Directorate hosted learners from various schools across the province, as part of creating awareness about the Agricultural sector.
Learners were exposed to the Agricultural sector and the entire value chain including animal health/production, home industry such as baking and yoghurt production, animal anatomy and veterinary services.
Daniel Matlou a microbiologist at TARDI shows some of the learners different animal organs, skeletons and parasites.