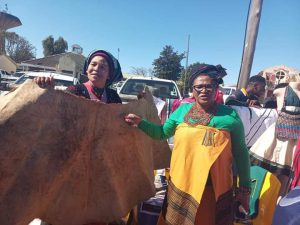 AMATHOLE DISTRICT WHERE FEMALE FARMERS SHOWCASED THEIR PRODUCE
Women were described as pillars of development who have the backbone to ensure that communities are developed.
This was said by the chairperson of Keiskammahoek-based Seven Stars Dairy Lumka Maso during the agriculture show where women from Amathole District Municipality and BCM showcased their produce.
"If a woman is around, no one goes to bed on an empty stomach. We are wise as women. We stand up for the well-being of our families and communities. We need more support for women programmes," Maso said.
Nosandile Tyam from Dutywa said being involved in farming has changed her life for better.
"I now have graduates in my house from the money I make from farming. I have a hefty bank balance thanks to farming," said Tyam whose business has been assisted by government with fencing of 150 ha of land where she is planting grain through the cropping programme of the DRDAR.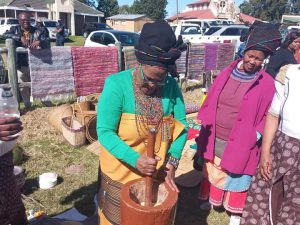 Eastern Cape Department of Rural Development and Agrarian Reform MEC Nonkqubela Pieters commended women for their great work.
"As I was going around the stalls, I was impressed by the good work you are doing. We need to shout out and speak about the development we do as women. Don't look down at yourselves, you are doing a sterling job by feeding the nation," she said.
South African National Defence Force representative Captain Mfundo Mampunye said his department has joined forces with the DRDAR and national department to fight hunger and poverty.
"We've an agreement with the national Department where we want to see your products being eaten by soldiers. We want food that is produced by you to be consumed at our bases instead of buying food in other places," said Captain Mampunye.
Pieters said if the province was to feed the whole nation, women need to be strong in farming and ensure they occupy the space that is currently dominated by males.
She said the focus of the land reform programme will now be on women and youth because there were farms that were given to males but were now lying fallow.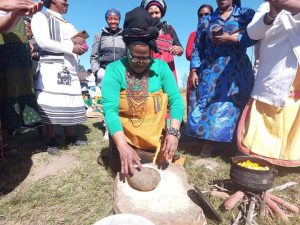 Pieters said it was time for women to become rich through farming, urging them to encourage youth to join farming.
During the show, best farmer's stalls from all municipalities within the Amathole District took home prize money with farmers from Mbashe Municipality walking away with the first prize of R10 000, Ngqushwa Municipality came second taking home R7000, Mnquma Municipality came third taking home R5 000. Consolation prizes of R2000 each went to BCM, Raymond Mhlaba, Great Kei and Amahlathi municipalities.