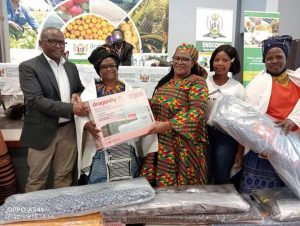 DRDAR sews up rural clothing and textile enterprise
THE Eastern Cape Department of Rural Development and Agrarian Reform (DRDAR) will now procure protective clothing for its staff from clothing and textile enterprises which it supports under its Home Industry directorate.
MEC for DRDAR Nonkqubela Pieters made the commitment on Wednesday [May 18] when she handed over 13 sewing machines with two being over locks to Ngcobo-based Siyakhana Sewing Project.
Through its Home Industry component, DRDAR promotes economic development of rural communities and creates some jobs for the rural unemployed mostly women, youth and people with disabilities and Siyakhana is one of them.
Since 2017 a total of 503 Clothing and Textile cooperatives with 2808 beneficiaries have been supported with industrial and domestic machines, sewing equipment and sewing material accross the province. An amount of R17 000 000 has been invested by the department to assist these groups.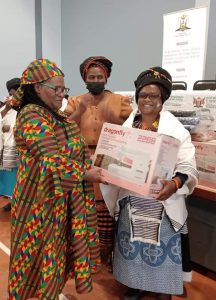 During the last financial year, a total of 101 Clothing and Textile cooperatives were supported with sewing machines and sewing material in all six districts to a value of R5 800 000.00. Since 2017 to date, 13 projects have been supported in Engcobo Local Municipality.
The eleven-member Siyakhana Sewing Project has been the latest beneficiary.Siyakhana is spearheaded by 10 elderly women and a single unemployed youth who holds a tertiary qualification.
The group of women established the enterprise in 2021 and raised money to hire a trainer to give them a two weeks basic sewing skills course since the majority of them were not formally skilled in sewing.
After taking the first step the cluster of ambitious women applied for assistance from the department.
In response, DRDAR invested a sum of R117 000 in the form of sewing machines and 1 100 metres of fabric.
During the handing over of the machines and fabric, MEC Pieters said the main objective of the intervention by the department was to empower the rural coops that are involved in clothing and textile industry to be entrepreneurs and contribute in the economic development of their communities.
"Clothing and textile plays a critical role in the economic upliftment of women in the rural areas of this province.
With this intervention, DRDAR seeks to stimulate rural development through empowerment of rural women and youth for economic growth and job creation. Home Industry Services therefore recognises a need to promote entrepreneurship amongst women, youth and people living with impairments in the Eastern Cape Province through Clothing and Textile industry hence we are here [handing over machinery and fabric] today," she said.
She added that as much as she has committed her department to procure protective clothing for its employees from enterprises like Siyakhana, potential suppliers had to adhere to supply chain procurement processes.
Ngcobo is among the impoverished rural towns of the province with high figures of unemployment.
Spokesperson for Siyakhana Sewing Project, Nosimo Tube said they sold their products to local markets and were looking to expand to other provinces.
"We produce wide range of garments from protective clothing in the form of work suits, traditional wear, school uniforms and different items made from Shweshwe fabric," said Tube.
She said before DRDAR came to their aid they used four inferior sewing machines which –a challenge which made them to not meet the requirements of their customers.
"With the additional machines we will be able to balance quality and quantity. And an increase in our production means we will make more money and be able invest back in the business and even hire additional staff," she said.
Nomabali Crafts in Coffee Bay is one of the successful coops in the Textile and Clothing sector that DRDAR has invested in. The coop has made a name for itself in international markets as a reliable exporter of Umbhaco and other Xhosa traditional wear.
Their products are sold in countries like England, USA and Netherlands.