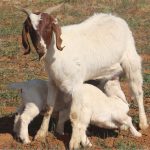 EC households milk more goats and sheep than cattle, Surveys
More households in the Eastern Cape province milk goats and sheep more than cattle, a survey by
scientists working at the Department of Rural Development and Agrarian Reform's Dohne. Agriculture Development Institute has found.
Speaking about the results of the survey, one of the scientists, Dr Jean Rust said: "the actual milk
production in litres per household per day in all livestock species across all districts is very low for
cattle and surpassingly popular for goats and sheep."
For this survey, Rust worked with other scientists, Mr Mabutho Mkhungela and Mr Tinashe Kumburai.
Rust said the availability, manageability, lower maintenance of goats and sheep can potentially
play a role in this regard, adding that though there seemed to be some potential for communal
household milk production, serious development was needed for sustainability. Rust said the survey,
which was conducted between June 2014 and May 2015 was aimed at getting a better understanding of milk production and consumption dynamics in the Eastern Cape province.
A total of 500 households in the five districts of Amathole, Alfred Nzo, Chris Hani, Oliver Tambo and Joe Gqabi drawn from 5 communities per district, 20 households per community and 100 households per district participated in the survey.
"Household characteristics, production system characteristics and production levels are very similar
across the different districts. Members supported by households were surprisingly high," said Rust. The survey also found that households owning these animals which are miles for their consumption had a good record of arable land allocated to them, however no record of communal grazing land available to each household.
He said the main reason for milking the animals was for their own consumption and the number of animals used per household for milking for consumption are very low, ranging from