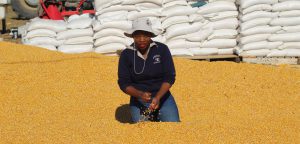 Extension officer wins farmer's hearts, yields good harvest
WHEN ANDISWA RALA, the Extension Officer for the Eastern Cape Department of Rural Development and Agrarian Reform responsible for Mvenyane village in Ntabankulu, started this job she faced some obstacles including men who did not expect a young woman to give them advice about their fields and livestock.
This inspired her to continue working with her clients and later she won their hearts. Her responsibilities as the Extension Office include giving advice to livestock farmers, food producing farmers and households in her ward.
Rala said the work of the Extension Officer is to advise farmers about agriculture, to facilitate programmes of the department to make sure that they reach farmers, make sure that farmers benefit from these programmes.
She feels honoured for being in the field previously regarded as a man's job because women also have what it takes to work in agriculture.
"People who regard this as a men's job, feel that women don't have much role to play in agriculture. I think there is a lot that we can do as women in this field, this field has no gender bias and we have the energy to drive agriculture to yield the good results you see here in these fields," said Rala referring to the Amantonta fields in Mvenyane.
She said her role started with introducing the programmes of the Department to the farmers so that they are interested.
"We took soil samples from this land for analysis. We we provide yield estimation to the farmers so that they know what yield to expect to plan ahead with their marketing strategy," she said.
Rala said some of her male clients were so reluctant to take advice from her about how to manage their animals, crops in the fields, correction and education from her.
"At first it was a big challenge telling a man how to plough their field or how to manage their livestock but as we work together, being visible to them, they now know that we also want good outcomes for their businesses.
They accept us and they know us. They even come to us to seek advice because they understand us men was a beautiful thing to a point that they now call them to share their frustrations when their animals are sick excitement when they give birth and when they yield good harvest.
"It makes us feel good that DRDAR has put us in a better place by giving us these jobs and opportunities to represent women in this field.
Seeing results of the work I was part of is the most beautiful experience. These fields are on dry land as you can see. There is a lot that needs to be done before we start production. It means ours advice, listening to the farmers and them listening to us on what needs to be done. Seeing these results is a wonderful dream to manifest," said Rala.
She attributed Amantonta's beautiful 6 tonnes per hectare harvest to hard work, saying this makes them as Extension Services of the DRDAR very excited. Rala said she hopes other farmers will follow this example by approaching DRDAR offices so that they can benefit from this programme