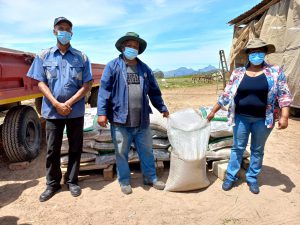 Farmers should not abuse assets provided by government
By Thozi kaManyisana
The farmers should "stop abusing" the assets they are given by government for their progress and growth, said Rowan  Kapank from Boplaas farm in Louterwaters.
Kapank was speaking during the official handover of two tractors and its implements to benefit 18 farms in the Koukamma Local Municipality by the Department of Rural Development and Agrarian Reform (DRDAR) MEC Nonkqubela Pieters.
Pieters also handed over 600 bags of fertilizers to Kapank who is hailed as "one of the best producers of potatoes" by Potato SA as well as Xenephon Grootboom who produces  various vegetables
"As farmers , we must look after the assets we receive from government because they are meant to take us forward. There's a tendency among people to abuse government sponsored assets because they did not pay for them.
I really appreciate this intervention because it  gives us strength to progress and produce more," said Kapank .
Potato SA mentor Terence Brown told the MEC that he has "evidence that Kapank was one the top 10″ producers in the country and he has an agreement to produce potatoes in 10ha of land with their support.
Chairperson of Koukamma Farmer Production Unit, which is managing mechanization brought by government Johnny Kettledas said the tractors "are a boost on what we are trying to achieve.
"We promise to work hand in glove as farmers and we are pleased that you are always assisting us," he added.
The MEC visited the JD Rovon a  deciduous fruit  farm as well as Kapank and State farms that produce vegetables
She  said the aim of government is to change  people's lives and ensure that farmers actively participate in the mainstream economy "
"As government we are assisting farmers and let us work together to make better livelihoods, this  realised through partnerships and your commitment as you work the land
"When I come back here, I want  to hear that, there  are more   farmers who have graduated from emerging to  commercial level . I am glad government has been able to assist you to produce what I see here," she said.