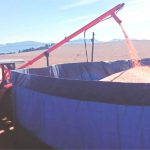 Four silos to help farmer get better price for maize produce
By Thozi kaManyisana
One of leading women grain farmers in the Easstern Cape, Ms Zoliwe Nombewu is hoping to make huge profits from her maize harvest thanks to the four temporary silos the the Department of Rural Development and Agrarian Reform (DRDAR), which allow her to store maize to sell at the right time.
Award-winning Nombewu from Gotyibeni village praised DRDAR for supporting her with four 130 tons temporary silos with its auger feeder.
"The temporary silos will ensure I get huge profits because I'll store my maize until the market price has risen. Before this support, I'd sell my maize while it is still cheap and I'd lose out but now I'll keep and wait. My maize used toon the fields when I didn't have silos if I kept it until prices were high. "The department's intervention will make me grow and become a sustainable commercial farmer while I'm in the communal areas. I'm where I am as a business person because of the support from the department," she said.
For a person who started farming with vegetable production on only two hectares of land in 2008, Nombewu is a force to be reckoned with as she now produce maize and dry beans on 300ha of land. She has also planted 5ha to motivate the community of Madwaleni village where she has leased the land she's working.
On top of the silos, DRDAR has been supported her with production inputs to plant 64ha of maize through its flagship cropping programme. She was also assisted with a borehole for vegetable production as well as vegetable seedlings to continue producing on the 2ha of land she started with.
The farmer owns a fleet of 12 tractors, a combined harvester, 4 no-till planters, 12 ploughs, four discs, four 800 litre C sprayers, potato planter and its planter and a fine seed planter for vegetables. Her tractors were last year contracted by DRDAR through its partnership with Grain SA.
Nombewu was approached by subsistence farmers in the Madwaleni area to help them fence and plant their fallow land, which she did. She said when the land was tested it was discovered that it was not in good condition but she invested in lime and quality fertilizer.
"The results are now amazing," she said. She sells her products to local agricultural  products wholesalers in Mthatha, Qumbu and Tsolo as wells as local people.