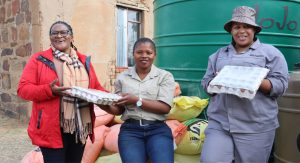 Govt. investment grows female farmer's business
By Sanele James
EASTERN CAPE's Rural Development and Agrarian Reform MEC, Nonkqubela Pieters describes Aliwal North's young female farmer, Dintle Maphala a 'fertile land' that motivates the farmer to plough more. Pieters said this during her monitoring visit to Maphala's farm in the Joe Gqabi District to see work at this mixed farming enterprise which jumped to greater heights expanding its operations following investments by various government departments and state-owned enterprises.
"Looking at what this business has become and it being managed by a young woman, the popular notion that says the government is spending taxpayers' money carelessly needs to come to an end. It is development like what I see here that encourage the government and other investors to throw in more money. Land that produces good yields is always encouraging to the farmer. You are that land Dintle," said Pieters.
In her 287ha size Goedehoop farm she got from her parents back in 2016, Maphala farms with brangus beef cattle, poultry, vegetables with mohair being her major commodities. DRDAR invested 30 Angora goats in the Maphala's thriving business, 28 are ewes and two bucks through its Livestock Improvement Scheme, allowing her to phase out her mixed breed goats not yielding good wool clip quality.
The injection by DRDAR grew Maphala's herd to 302 goats which she shears two times during the annual shearing season starting in each September. Maphala described government's investment in her business as a springboard that shot her up to participate meaningfully in the production business.
"I am no longer doubtful of myself and the work I do. I produce both the quality and the quantity the market demands and this is through the investment made by DRDAR and Mohair SA in my business," said Maphala. The DRDAR also fence her farm, completed her primary wool production needs with a shearing shed with all accessories starting from baling machine, sorter and a compressor.
In 2020 she was selected by the Office of the Premier to undergo poultry production training at the Tsolo Agriculture and Rural Development Institute (TARDI). This was followed by the purchasing of an egg incubator and construction of the 1080 birds capacity poultry structure for her farming business. She packs and sells more than 300 eggs per day. After seeing the progress in the business SEDA stepped in and invested in egg packaging material and developed a business plan while the NYDA offered business management training to complement Maphala's farm management qualification.
Maphala sells veggies, eggs to local supermarkets in Aliwal North and plans to stretch her supply of day-old chicks to places as far as Komani. The Joe Gqabi District Municipality has committed to assist her with solar energy infrastructure to help her incubator hatch more eggs inline with her business expansion plans.
"I'm planning to be one of the ambassadors making sure that the youth sees agriculture as a career and a sector that has a potential to simultaneously create employment and feed the nation. All the investment that the government is making in me is because of the good work and strides I am making. But I will have to pay it back by employing and mentoring other young farmers, something which I am already doing," she said. During her visit, Pieters delivered 200 bales of Lucerne and chicken feed to Maphala's business.