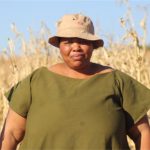 Mazie, veggie farmer encourages women to join agriculture
ZIMASA NTLANGULA, one of the members of Amantonta Agro processing family cooperative in Ntabankulu says she never imagined herself in the agriculture sector.
Excited by the bountiful harvest of their business from production funded by the Department of Rural Development and Agrarian Reform, Ntlangula said when her parents and siblings started their maize production business in the Mvenyane village of Ntabankulu in the Eastern Cape, she did not join them until her love for agriculture was stirred up by the work they put in the business and opportunities created by the enterprise.
Ntlangula said at first she had no interest in the agriculture business but when she looked at the business in the first year and saw its progress, she decided to join forces with her family. "In the early stages of the business there were ups and downs. There were times where I felt like giving up but we realised that our dream will manifest. So this and lack of job opportunities here also attracted me to the business," said Ntlangula, adding that in their family business every member contributes to the hard work.
As a young woman, Ntlangula said she is happy that women are free to do any work in the country. "When we were growing up our mothers did not have these opportunities. They depended on our fathers but now I feel free because I can do any job I want to do without anyone blocking me and even telling me what to do," she said.
With their business harvesting 6 tonnes per hectare from 350 hectares of land in Mvenyane, she said: "I am happy that we are harvesting this tonnage because in the beginning this land was fallow.
At first we were not certain we would be able to accomplish what we wanted to do; but now here is our great harvest. It makes us very excited. This harvest shows that we know what we are doing."
She encourages other women, especially young women to take up opportunities in the agriculture sector, throwing a caveat that agriculture is not an easy business. "It is tough in this business but if you are committed you can do it. Don't put money first, focus on producing. See what your produce will give you. Don't put money first, it will come later. You must commit to the agriculture work and have passion for it. I encourage other women to take up agriculture," said Ntlangula