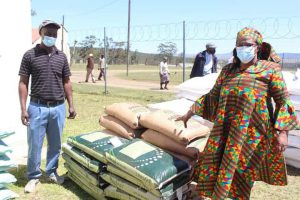 MEC Pieters boosts Amahlathi farmers
By Thozi kaManyisana
Eastern Cape Department of Rural Development and Agrarian Reform MEC Nonkqubela Pieters  handed over production inputs, feed, irrigation material, chicks and piglets to excited farmers in the Amahlathi Local Municipality.
The MEC handed over 300 broiler chicks and 100 bags of broiler feed to Nqobindlala Poultry Project from Masincedane Village in Keiskammahoek, 90 bags of pig feed to Gayika Traditional Authority in Mkhubiso A/A in Keiskammahoek, 10 piglets and 30 bags of feed to Ngqaram Co-op of Kubusi Village in Stutterheim whilst Lang Draai farm from Carthcart 3 bags lurcene seeds and 13 bags of fertilizers
An irrigation equipment as well as 13 bags of maize,  10 bags of Lurcene and 10 bags of grass seeds were handover to the Zanyokwe Irrigation Scheme.
Livestock farmers, who received livestock in Amahlathi Local Municipality from DRDAR this year were also honored at the event.
These farmers included Flat Field farm who received 10 Bonsmara heifers and its bull and Olive Groove farm that received two South Devon bulls both from Carthcart as well as Impangele Farm from Bolo in Stutterheim that received a Bonsmara bull.
Speaking during the handover event held at the Mkhubiso hall, MEC said the farmers were "very important in the society because  as producers they support an important  basic need like food security  . When everyone has a plate of food they thank a farmer"
"I want to say to the youth – as government creates an enabling environment for your to actively participate in development in your own area . Grab the opportunity and change your lives. Government is here to assist you.
"Agriculture is business. No matter how small you produce, treat it like business," she said.
She pleaded with the community to work the land, adding that "no garden should look like a grazing land. "
Farmer and religious leader Siviwe Ngam declared that: "today is the transformation of mass destruction in our minds into tools of mass production."
"Let's build the nation together so that our youth can follow us," he added.
Giving message of support, community leader Mxolisi Venkile said the MEC's visit  to our area " which is rich and fertile, will give us power to produce more ."
"We cannot live without agricultural activities because food security is very important. We are urging people to start working their household gardens and working together with government we'll achieve more," said Venkile.
Chairperson of farmers' association Nolisti Ngcukana who received 300 chicks said the support given by DRDAR is "very good."
"I have been able built a brick house because of the support we received from the department  since 2007. Those who have not yet seen the value of agriculture, they should join us," said Ngcukana revealing that she was supported with a poultry structure by DRDAR with a capacity for  300 chicks.
The beneficiaries praise the Department for the "excellent support we are getting, the support from  your officials is commendable."
"We take our hats off for the officials ," said Thembekile Jonas of Ngqaram Co-op that received 10 piglets and 30 bags of feed.