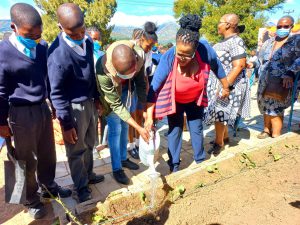 MEC brings joy to learners
By Thozi kaManyisana
Rural development and Agrarian Reform (DRDAR) brought smiles and jubilation to 180 disadvantaged learners in the northern parts of Sarah Baartman District Municipality.
While DRDAR MEC Nonkqubela Pieters brought the message of "love Agriculture" as her key message to the schools she has adopted, she also brought "goodies to restore dignity" of learners
The department visited the schools, including Misgund Junior Secondary School and Louterwater Primary School as well as Joubertina Junior Secondary School on Monday.
On Tuesday, the schools included Qhayiyalethu Comprehensive School, Gustav Reichel Primary School and Coldstream Junior Secondary School.
Apart from demonstration of planting seedlings and trees in their school gardens, the identified learners were handed over with school bags, school shoes and dignity packs that included sanitary towels, roll-on, toothpaste , toothbrush, washing rag and soap.
The MEC noted that some of the leaners who received the school shoes from the department were either barefoot or wearing takkies to school.
"While I am here to instill love of Agriculture and show there's bright future in the sector, I'm happy that I brought these goodies to restore your dignity.
"You are coming from poor backgrounds but you can become prosperous as the background doesn't determine one's future.
"Go on and become shinning stars , dream big and make those dreams a reality," said the MEC.
She said she was interested in seeing the learners results improve hence "it is important to work seriously."
"We want all schools to start have food gardens so that the learners can start seeing the value of agriculture from a young age," she added.
Doris Luzwati, from MEC's constituency office urged parents to "take a key role in children's education so that teachers can easily deal with kids."
A twelve-year-old Johander Kleinbooi of Qhayiyalethu Comprehensive School was wearing takkies to the school said he was "very thankful to the department."
"I'm very happy because I will be able to walk around the with my head up and not feel different because I don't have schools," he said.
In all the schools, the gesture of starting food gardens and the donation of seedlings was warmly welcomed.
Gustav Reichel Primary School principal Coeleen van Zyl said they "appreciate the assistance from the bottom of our hearts."
The MEC identified 12 schools that will be assisted by department as part of the MEC's adopt a School Programme that was pronounced by the Cabinet.