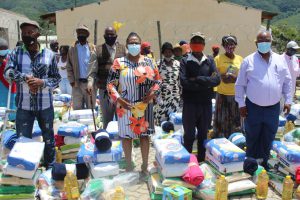 Pieters calls for responsible festive season celebrations
By Sanele James
A total of 100 households in Somerset East under the Blue Crane Route Local Municipality are looking forward to this year's festive season celebrations.
This is after MEC for Rural Development and Agrarian Reform, Nonkqubela Pieters took surprise early Xmas party for the  elderly and children to the small town of the Karoo.
Pieters distributed food parcels and educational toys to the needy locals with majority of the beneficiaries being women.
Thirty of the beneficiaries came from Cookhouse, 15 from Pearston and 55 from the hosting Somerset East.
Dressed in Santa Clause attire, Pieters also handed out 100 toys among 50 boys and 50 girls.
Pieters took the opportunity to denounce acts of abuse against women and children and further lectured locals about the novel Corona Virus.
"This time of the year is characterised by exchanging of gifts and love. We are also here to do the same –celebrate and be merry with you. But as we celebrate the festive season, let's do it responsible and fight the scourge of gender-based violence and the abuse of children.
"As we celebrate, let's be protective of the vulnerable and elderly. Let's not only protect each other against abuse but also against the Corona Virus," she pleaded with the beneficiaries.
The Xmas party took place at the Somerset Youth Centre under strict Covid-19 protocols.
Among the beneficiaries was Eunice Clarkson. The 68-year-old used to work as a cleaner at a local shop but she unfortunately lost her job early this year when her employer closed shop after it couldn't recover from the Covid-19 level 1 restrictions.
"I am here with my granddaughter who has also received a doll as her Christmas gift. She has always wanted one but I couldn't get her the toy because we channelled the little we had towards other family needs," she said.
The list of the beneficiaries was compiled by the municipality through its database of indigent residents.
Among those who attended the event was Mayor for Blue Crane Route Local Municipality, Bonisile Manxoweni.