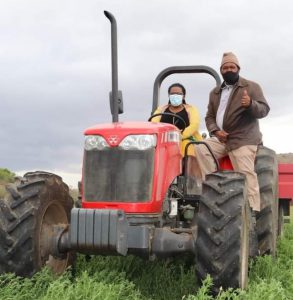 MEC gives farmers a steppingstone
By Thozi kaManyisana
Eastern Cape MEC for Rural Development and Agrarian Reform, Nonkqubela Pieters recently crisscrossed the Blue Crane  Municipality to hand over tractors, production implements, bulls and production inputs to farmers in the area.
Pieters started off in the Klipfontein where she handed over two tractors with a trailer, lurcene bales, rakes as well as seeds and fertilizer that will be shared by four different farms, namely Sonder Farm, Lenethal Farm, Nuweruf Farm and Elensdrif Farm.
Speaking on behalf of the farmers, Phakamile Vellem of Elensdrif Farm thanked the department for the support.
"We are very happy as we receive these  tools that will assist us to produce more feed (lurcene).
Your visit to us is very significant  so  that you can see for yourself  what we are doing.
Our aim is to move forward and become commercial hence the assistance will be very helpful in our bid, "said Vellem.
He further told the MEC how helpful the department's extension officials have been to them.
Pieters said she was happy to see that farms leased from the government were being utilized, saying there was a tendency of acquiring state farms only to convert them to party destinations instead of their initial purpose.
" We are here to handover these  tools to in order to enable you to do more and  realise your fullest potential.
Government isn't a business entity but ours is to level the playing fields so you can also compete fairly with other businesses," she said.
From Klipfontein Pieters then moved to Constant Commonage in Somerset East to hand over two Bonsmara bulls to the seven-member commonage.
"We are very excited as these farmers because we will now produce quality cattle that give us good profits from the market," said the chairperson, Siphetho Mfabana.
Pieters said the bulls were part of the department's Livestock Improvement Scheme meant to change the quality of the farmers' livestock and emerging farmers stood to benefit the most from the program