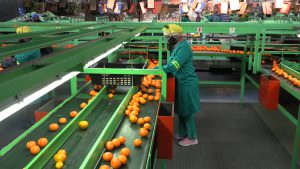 New SA-China citrus protocol to benefit East Cape farmers
Citrus farmers in the Eastern Cape are set to benefit from the new citrus protocol signed between SA and China. The old protocol had more stringent regulations on cold requirements for lemons, previously at 0.6°C or below.
The new protocol allows for 3°C for storage spanning a maximum of 18 days. The new protocol with China was brokered by agriculture; land reform and rural development minister Thoko Didiza. Together with Eastern Cape rural development and agrarian reform (DRDAR) MEC Nonkqubela Pieters, Didiza witnessed the first shipment of lemons to China from the Durban harbour.
The Eastern Cape, which is SA's biggest lemon producer, will export its produce under the new protocol. The province produces 42% of SA's total production. Of the 30-million cartons of lemons that SA exported in 2021, 11.3-million came from the Eastern Cape.
It is estimated that lemon exports to China will generate an additional R325-million and create 800 new jobs in the country. Black farmers are also participating in the export market, with a 40% increase in volume to 1.6m carton exports in 2020. During his state of the province address Eastern Cape Premier Lubabalo Oscar Mabuyane said:
"Our province is an exporter of agricultural commodities to international markets. Today lemons produced from our province were shipped to China at the Durban port. While we celebrate this milestone, we want the produce from our farmers to be shipped from our ports and we are engaging Transnet regarding improvements at the East London port."
The industry is also a significant job creator, employing some 120,000 people nationally. Some 26,000 of those are on Eastern Cape farms and pack houses. The Sundays River Local municipality contributes more than 4,000 jobs alone.
During picking and packing season, that number grows by 8,000. The DRDAR is assisting farmers with lemon orchard development while also working towards improving access to water, logistics, production inputs, infrastructure and new markets through compliance and accreditation programmes.