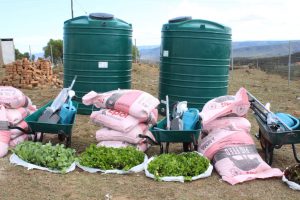 Peddie Youth use R350 Covid-19 Relief grant for a lifetime investment
By Thozi kaManyisana
While most young people at  Nobumba Village in Peddie used the Covid-19 Relief grant buying "unnecessary items", five young people from the village decided to start a poultry project using the R350 grants.
The five cousins sad they decided, "not to waste the money" they received from government but put it in "good use" because four of them had lost jobs due to Covid-19 and "we wanted to put food on top of the table."
This inspiring story was revealed when the Department of Rural Development and Agrarian Reform (DRDAR) MEC Nonkqubela Pieters visited the project to" officially handover a plucker machine, water tanks, 100 broiler chicks and 4 bags of broiler feed.
"Our vision was to get up and do something for ourselves after losing jobs and we used the R350 grants to start a poultry project so that we can sustain our families. As young people, we saw it fit to be involved in the agriculture sector and poultry was our first choice," said the Chairperson of Bayeni Poultry Co-op Phumlisa Ngabase (26) who lost her job due Covid-19.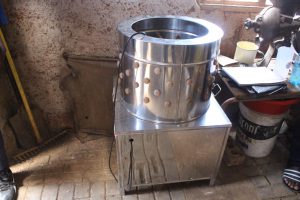 Ngabase who is the only female in the group said in March last year, they made bricks with soil and built a structure to accommodate their chickens.
She said they approached DRDAR to get guidance and assistance on how to initiate and manage a sustainable poultry business.
"DRDAR willingly assisted us by providing training and we are constantly in touch with our extension officer for advice.
"We are very grateful about the assistance we have received from the department because it has minimised our challenges and we are starting to see profits," she said.
In the 2021/21 financial year, the project received five bags of feed and 50 day-old chicks from DRDAR and for Ngabase that was a "great relief because feed and chicks are expensive ."
"The water tank has assisted us a lot because we use to go to  the nearby Woodlands village at R80 per 200 litres and now that we have the tank, the expenses are lower and our profits are multiplying," she said jubilantly, adding that they were selling their broiler chickens in surrounding villages  and in Grahamstown.
During the event, the MEC  handed over another 400 chicks and 15 bags of feed, 2400 various vegetable seedlings, 10 wheelbarrows, 20 bags of piggery feed, garden tools and a plucker machine to 17 other youth projects from the  Peddie area  and  was elated about the level of youth commitment in agriculture.
Talking about the Bayeni project, the MEC said; "These youngsters have done a commendable and noble thing because others see these R350 Covid-19 grants as entertainment vouchers . You have changed the R350 monthly grants into a lifetime investment and I will  use  you as an  example whenever I go so that others can follow suit."
" As the youth of Peddie you have  made me proud because you are not sitting idle but you have realised that there's life and wealth in agriculture.
You have really grabbed government opportunities with both hands and we are  committed to work with you, "she added.