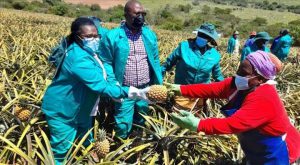 Massive drive to create jobs
By Thozi kaManyisana
The government of the Eastern Cape is on a massive job creation drive by ensuring that agricultural projects are supported to become economically viable through creating a conducive environment for businesses to thrive.
This was said by Premier Oscar Mabuyane who joined the Rural Development and Agrarian Reform (DRDAR) MEC Nonkqubela Pieters during a pineapple harvest at Tarfield farm in Ngqushwa where she also handed over two tractors to pineapple farmers.
"We want to have a massive job creation , ensure that  we are not creating seasonal jobs but fulltime jobs through value addition. The government is creating a conducive environment for economic growth hence we are making opportunities available for businesses to invest. This pineapple production programme is doing exactly that,'' said Mabuyane.
DRDAR has invested about R2,2 million since the 2019/20 financial year for fencing, production inputs, a tractor and fuel. The invested made by the department translated to 69 temporary jobs, while a further 10 are employed on a permanent basis.
He said DRDAR has facilitated a market for the farmers as the harvest from these farms is sold to Summerpride Foods through an off-take agreement that ensures that the farmers have an established market.
In their first harvest the farm recorded a yield of 1 500 tons while in 2020 they harvested 2300 tons. In this year's harvest, they are hoping for a  yield  of 3 000 tons.
"This is rural development at its best and I am excited to see the progress we are making in reviving programmes that were successful during the previous government.
"We  need to attract investors to projects such as these. I am happy about the commitment and dedication shown by the pineapple farmers hence we need to multiply investment to these  projects .
He said government has invested about R20m to at least six pineapple farms in Peddie where 182 hectares of land is currently under production and "working together with our partners, we will increase hectorage in pursuit of economic growth."
"The baseline of total land under production for Pineapple in the province is 7 800 ha. Through the implementation of the Agriculture for Growth and Employment Programme, we will increase the land under production to 10 300 ha.  This will lead to an increase in the baseline for jobs in pineapple production from 8 000 to 10609 and to an economic growth baseline of R1,45 billion," Premier Mabuyane.
Founding member and supervisor at Tarfield farm Mlungiseleli Bala said they were "reaping good fruits" from the investment in the pineapple industry compared to when they use to plough maize.
"The pineapple is drought-resistant and we are now harvesting good yields despite the dry conditions. This development has changed people's lives through job creation and ownership of the business," Bala said.
Bala used to work for a pineapple-producing farm owned by the former Ciskei government's development agency Ulimocor.
Chairperson of Tarfield Farm  Zondiwe Maseti could not contain her joy about the revival of pineapple production in the Ngqushwa area.
"We had nothing when we started. It was out of love but government has elevated us to greater heights. When government says 'get up, do something for yourself and aid will find you along the way' is not an ignorant statement. We have seen that through our experience," she said.
Summerpride fruit manager Pierre Tilnely said they were exporting the pineapple from the Ngqushwa farms to South America, Russia and Europe and they were excited about the investment made by the government in the area as it guarantees sustainability.
He said worldwide there was a massive demand for more pineapple fruit and the fruit from the Ngqushwa farmers was what the market needs.