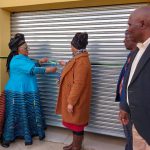 FARMERS SAY NEW SHEARING SHED, RAMS WILL IMPROVE WOOL CLIP, INCREASE PROFITS
UPPER Mkapusi Wool Growers Association members said the new shearing shed, dipping tank and 10 Dohne Merino sheep handed over to them by the Eastern Cape Rural Development and Agrarian Reform MEC Nonkqubela Pieters will improve the value of their wool and increase their profits.
MEC Pieters gave keys to the new structure built by the Department with an investment of R1,4 million as part of going programme to commercialise wool production through investment in agriculture infrastructure like the shearing sheds, distribution of rams with superior genetics to improve quality of wool clip.
Chairperson of the association Dumisa Mbobosi said farmers were relieved and excited that government has assisted them with infrastructure, machinery and rams to enhance the enterprise that was initiated by their forefathers.
"Back then there was lack of knowledge about the business hence it ceased to exist only to be revitalized in 1985 where as young people we were encouraged to join. At the time we were using a shearing structure made of soil bricks and stones before government provided this structure with all the necessary equipment to increase the value and profit we make," said Mbobosi.
He said the old structure compromised the quality of their wool clip because it was small, they didn't have necessary tools but now they are seeing the difference, hoping to grow more once the sheep start changing their flock.
During every shearing season the project is able to create (13) job opportunities for youth as 10 sheep shearers, two wool classers and sorters and a wool scale reader.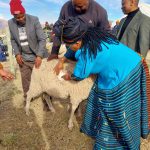 Between 2017/18 and 2022/23 financial years, DRDAR invested about R3m in agriculture support for the community including drought relief material, infrastructure, spring water protection at Bangindlala that created 90 jobs, livestock improvement and household gardens.
The association which has 60 members that include 22 women, 2 young women, 2 people with disabilities and 34 males officially received the keys to the shed where they produced about 35 bales valued at R419 000 from their 2799 flock.
MEC Pieters said the current government has invested millions in its bid to develop rural areas to become economic development hubs.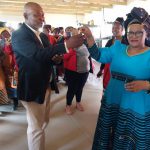 "Before democracy you would never see an investment of R1,4 million in rural areas. We want you to sell clean good quality wool so that you can get more money. When you sell contaminated wool you get less money because you are competing with people that have fully equipped shearing sheds. We've built this shed so that you can develop. What I like about this shearing shed is that young people and women are involved. Where there are women, things fall into place and become sustainable," said Pieters.