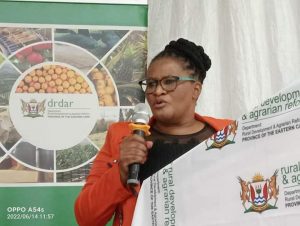 MEC PIETERS TELLS YOUTH TO IDENTIFY GAPS IN EXISTING MARKETS
WITH many Agricultural markets said to be saturated already and some hogged by established institutions, MEC for Rural Development and Agrarian has challenged the youth of the province to think smart and identify gaps on the existing markets.
Pieters was speaking at a Youth Entrepreneurship Workshop held in Port St Johns on Tuesday [June 14] this week where she said the competition was already too high for beginners in many markets but the youth had their special space with their innovative ideas.
The workshop is part of this year's commemoration of Youth Day under the theme: "Growing South Africa together in the period of Covid 19."
Currently, the Eastern Cape is listed among the top producers of citrus in the country but the mesh citrus sacks in which they are packed and sold are sourced from the Kwa-Zulu Natal Province.
"The local production of mesh citrus sacks is just one of many gaps that young people of today need to exploit. Efforts are made at parliament level to implement and amend policies where necessary to create a conducive ground for economic freedom and inclusive economy. Your peers are already producing vegetables, fruit, grain and livestock. Find a way in which you can complement them," said Pieters.
The Eastern Cape Department of Rural Development and Agrarian Reform has just partnered with the United Nations World Food Program to upscale its small-scale farmers. This will allow them to produce and sell food to the UN World Food programme for its humanitarian interventions while also selling to local markets.
Currently agriculture contributes 1.8% to the province's GDP and accounts for 7.3% employment, which is also 11% of the national employment in the agricultural sector. This contribution forms a key factor in the province's rural development agenda.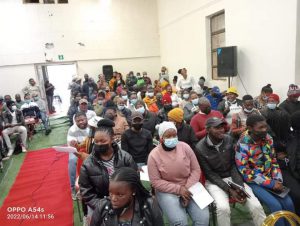 "We have all seen the devastation caused by Covid-19 in the world's economies. The fight between Ukraine and Russia has worsened the situation further, but in the process of rebuilding our economy lies opportunities that need fresh legs and young minds. Our partnership with UN World Food programme is one of those that young people need to identify unconventional gaps and benefit from them because already the government has established institutions that are dedicated to your development," said Pieters.
Among those is the National Youth Development Agency (NYDA) and the W&RSETA that explained their services aimed at youth development.
Speaking to DRDAR Communication after the workshop Mziwamacirhsa Dlambulo a poultry farmer from Mbhashe Local Municipality said: "In this workshop I learnt about different agencies where I can be assisted regarding to poultry farming funding. I am grateful to the department for hosting this workshop".