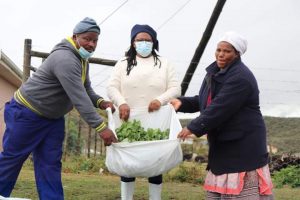 Youth's passion in Agriculture inspires MEC
By Thozi kaManyisana
THERE was much jubilation and ululation at Great Kei Municipality's Mangqukela Village in Mooiplaas when Rural Development and Agrarian Reform (DRDAR) MEC Nonkqubela Pieters donated 1400 seedlings to a local cooperative.
Chicago Primary co-op owns a 4ha piece of land where they grow potatoes and maize as well as leafy vegetables which they sell at Spar Supermarket and the surrounding community.
"The passion of the youth here is inspiring, I am happy that I was engaged by young people who are working with their parents in the farming industry.
The agricultural sector has been historically dominated by  men  and some are now elderly hence I applaud the involvement of youth in this project.
It is very essential to work with youngsters in this industry so that they can see the value of the land where the wealth is," she said.
The MEC was "elated" by the testimony of an unemployed graduate Nomagcina Suduka who told the MEC how the young people were active participants in agriculture from food gardens, ploughing fields to rearing livestock,  poultry,  as well  as woodwork and fashion designing.
"I thought I would surprise you by coming here driving a tractor so that you can see a young woman can also drive a tractor and be able to plough," said the 28-year-old who is ploughing vegetables on 2ha of land.
She said the MEC's visit to the village, which has four "united" vegetable producing projects, has "encouraged us as young people.
We want to follow our parent's foot steps so that when they are gone there can be continuation of growth and development."
Chairperson of the five-member Chicago Primary Co-op Vuyisile Siko praised the department for its "continuous support, which is changing our lives for the better.
The MEC visit will give us the willpower to grow stronger and produce more.
"Land is the number one natural resource, which is the pillar of development and that is what we teach our children."
He said they started their project in 2016 and DRDAR has been supporting them through its household food security programme that is aimed at ensuring households are producing food for consumption and generating profit with the surpuls.
The MEC committed herself to come back to area  for other rural development initiatives like sewing and furniture making as well as other agriculture projects.